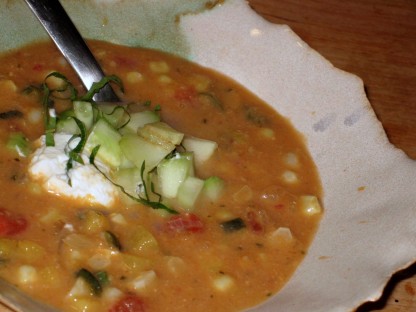 This cool of mix of farmers' market vegetables and sweet peaches is spiked with the gentle heat poblano chilies.
Why is it that the fresh taste of the season paired with certain places — in this case my new home in a tree-lined neighborhood in Northampton— enhances my eating pleasure? Perhaps it renders the simplest meal specific, rather than generic. Is this true for you?
So here it is — soup as an ideal late night summer supper, accompanied by the pulse of crickets.
Serves 4, 2 for a hearty dinner
Ingredients
1/3 cup chopped poblano chili
1/3 cup chopped shallots
2 tablespoons olive oil
Kernels from 2 ears of corn
1 scant cup peeled*chopped ripe tomatoes and their juices
1-1/4 cup peeleds* chopped ripe peaches
About 1 cup chicken or vegetable stock
1 tablespoon sherry vinegar or more to taste
About 1/3 cup plain yogurt
1 cucumber, peeled and cubed
Slivered lemon verbena leaves, optional (or your favorite herb)
Salt to taste
Procedure
1-Cook the chili and shallots over a medium heat in the olive oil, just until the shallots are  transparent, but not brown.
2-Add the corn kernels and the stock and simmer for 2-3 minutes. Add the tomatoes and peaches, reserving about 1/4 cup of the peaches for the garnish. (Something I should have done when I created this recipe but did not:)
3-Remove about 1 cup of the soup, mostly solids if you can, and blend until smooth a blender. Add back to the hot soup and simmer for 1 minute to marry the flavors. Salt to taste and chill.
4-Serve cold, generously salted. Top with small dollop of yogurt and a garnish a toss off cucumber, the reserved peaches and lemon verbena, if you have it.
A few simple tips: Make sure the chili is seeded before you chop it. *To peel the tomato and peach: score the bottoms with an X. Drop into boiled water very briefly, remove and then peel. Not essential, but after I shucked and peeled the corn, I snapped the cobs in half and added them to the simmering stock to help season it. A confession: I used the stock to drop and peal the produce, as it was already on the simmer.