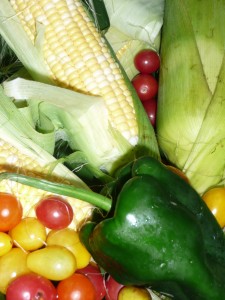 Maybe I should have called this Last Chance Soup. I cooked it to celebrate the end of the corn season. Finally, we're sick of corn on the cob. That's the idea, right? Eat it until you've had enough, then wait till next year. I also made this to welcome Sanjaban and Cynthia's visit a few years ago, to reciprocate after the honest country meal they served us the year before, carefully prepared and straight from their garden. I especially remember Cynthia's rustic vegetable soup with fat meaty scarlet runner beans. Dried beans from the store, organic or not, just don't compare. Cynthia told me that they taste best when allowed to dry in their pods until you can wiggle them like a rattle.
Serves 4 main course, 6 appetizers, makes about 6 cups
1 large onion
1 poblano chili
1 jalapano chili
3 garlic cloves
1 tablespoon butter
8 ears of  corn
3 cups chicken stock*
salt
1 cup milk, preferably whole
1 lemon
2-3 ripe tomatoes or 1 basket of cherry tomatoes
1 teaspoon white balsamic vinegar or cider vinegar
6-8 large basil leaves
1-Dice onion. (I like using a sweet onion.) You'll want 1-1/2 cups, but if you get less, don't worry about it. Cut the chilies end to end. Pull out the stem, knock or spoon out the seeds. Cut into strips and dice. Peel and mince garlic cloves.
2-Melt butter over medium heat in a pot or large skillet with a tall lip. Add the onion, chilies and most of the garlic, reserving about 1/3 for later. Cook, stirring occasionally, until the onion is translucent, about 5 minutes.
3-Shuck the corn, then remove the silk.  Hold each cob, standing up by the large end in bowl.  Scrape down the kernels with a sharp knife to remove them, turning as you work. Add kernels to the pot. (If the pot is the right shape, that is more wide than tall, I like to turn off the heat and scrape the corn right into it.)
4-Add chicken stock, salting to taste if it's homemade. (Less is better than more.) Simmer for 15 minutes. Add milk and continue to cook for another 5 minutes. Add the juice of the lemon, then taste, adding salt if necessary.
5-Remove the tops and chop the tomatoes. Or, if using cherry tomatoes, half or quarter, as you like. Mix in a small bowl with the reserved garlic and the vinegar. Pile the basil leaves on top of each other and roll. Then slice thinly. Do not chill. Reserve the tomatoes and basil for garnish.
6-To serve, heat the soup. Ladle into the warm bowls. Spoon the tomato mixture into center of each bowl, dividing it equally. Sprinkle with the basil.
Salt: I like adding salt several times, but never too much. Most chefs add kosher of sea salt at various stages of cooking so it gets integrated into the flavors, rather than layered on top at the end. Recipes generally don't do this, as it's too much to talk about!) Soup can be made and held in the fridge.
*For vegetarians, use vegetable instead of chicken stock