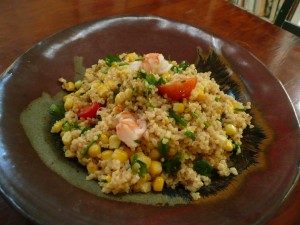 Use this as a template for any bulgur salad, served warm or at room temperature.Throw in what's fresh and local, cooked or raw, cut into small pieces as needed. Use contrasting colors, flavors and textures, and always a handful of coarsely chopped herbs or greens. This season, why not try chopped apples, tossed in a little lemon juice or cider vinegar to prevent browning, or even cubed steamed or roasted winter squash? I threw iin some shrimp here as I had a house full of visitors and I wanted to make this a more substantial main course, but I could have just as easily added a can of drained and well-rinsed black beans. Neither are necessary. And, although I promised I'd halt recipes using tomatoes and corn, I lied, because I found more at my local farm stand. It's such a short season and this week there's supposed to be a killing frost so….
Makes 6 cups, serves 4-6 main courses, 10 side dishes

2 cups coarse bulgur
3 cups water
3 tablespoons oil
2 minced garlic cloves
1-1/2 teaspoons kosher salt
1/4-1/3 cup fresh lemon juice
3-4 cups what's fresh and seasonal
Last of summer variation:
3 cobs of corn, kernels removed
1 pint basket cherry tomatoes, halved
1 light handful of coarsely chopped cilantro
1 pound cooked shrimp, cut into bite size pieces, optional
1) In a medium pot, stir the bulgur over medium-high heat for 3-5 minutes until, when you bend over it, it smells nutty but isn't browning much. Remove from heat and carefully pour in the water, oil, garlic and salt. Return to heat and simmer, over a very low heat, covered, for about 15 minutes, or just until all the liquid is absorbed.
2) Add to a bowl and let cool a few minutes. Stir in the lemon juice to taste and then the whatever variation you are using. Last of Summer Variation includes; Fresh corn kernels which I steamed for a minute in the microwave in with a little water, then drained, cherry tomatoes, cilantro and shrimp. Toss to combine well. Serve warm or at room temperature.

Sustainable Shrimp?
The vast majority of shrimp consumed in the United States is imported from Asia and South America and is industrially farm-raised. Farm-raised U.S. shrimp is an accepted eco-friendly choice, though it can be a challenge to find. Regional wild shrimp are available from the southeast Atlantic coast and the Gulf of Mexico, Maine pink shrimp are sold in the winter, and trap-caught spot prawnsare found on the West Coast.