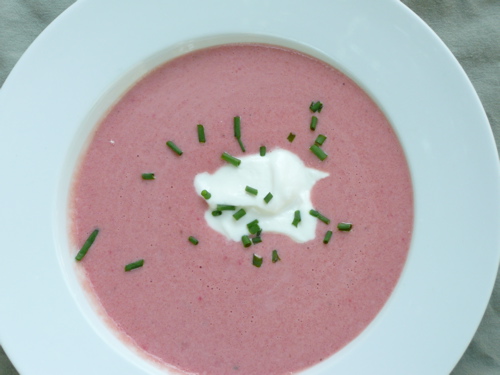 Made with light-colored heirloom beets. For a super bright color, use classic red-purple beets.
If you're a beet lover, Eureka! Here's a simple summer soup that's beety, refreshing and pretty. If you're not — and I've seen grown men cry over beets —this recipe is one of the easiest ways to introduce beets to the unconverted.
These local beets are from Markristo Farms at The Great Barrington Farmers Market in MA, but local beets are in season and easy to find at farmers markets, farm stands and sometimes even in supermarkets (just check the label or ask). To find a farmers market near you, try the Eating Well Guide. Local yogurt, sour cream or cream isn't tough to find either, and garden and market herbs abound.
Cooking note: I adore the taste concentrated taste of roasted beets, but they are still good steamed on the stove or in a stay-cool kitchen in the microwave. I love this soup best in shot glass or espresso cups as a snack, appetizer or first course. This recipe fills about 3 bowls, 4 wine glasses, 6 shot glasses or espresso cups

Ingredients
1 bunch beets, about 1 pound with their tops
1-1/2 cups or more buttermilk, or to reach desired consistency
1/2 teaspoon or more kosher or sea salt to taste
A pinch of cayenne or white pepper, or to taste
1/2 teaspoon balsamic vinegar, or more to taste
A dollop of sour cream, yogurt or a drizzle of cream
A sprinkle of chopped dill and/or chives
Procedure
1- To cook the beets: First cut off their tops, and if they are fresh, reserve to cook later.* Wash the beets to roast or steam until you can easily penetrate them with a knife.
2-To roast: Preheat oven to 375 degrees. Place beets on a large foil sheet. Seal the long and short sides together to make an enclosed bag. Cook for 30 minutes to 1-1/2 hours,depending on their size. To steam: To keep your kitchen cool, you can steam beets in the microwave. Place beets in a microwave proof bowl or measuring cup with about 1-2 inches of water. Cook until done, for 20 to 40 minutes, checking water once to make sure it isn't completely evaporated. You can steam beets on top of the stove in a covered pot in the same manner.
3-When beets are cooked, let cool covered. Remove their skins, which should slip off fairly easily. Chop beets in a food processor. With the motor running, add buttermilk until mixture reaches the consistency of a soup. (The soup will thicken a little when cooled.) Add salt and pepper to taste, along with a balsamic vinegar. Chill.
4- To serve: Taste again for salt and pepper, adding it if needed. If you are using it, add dollop of sour cream, yogurt or a drizzle of cream. Sprinkle with herbs.
*Using beet tops — Beet Greens Italian Style

Plunge fresh beet greens, without their end stems, into rapidly boiling water for 1 minute (up to 3 if they are really big). Drain and run under water until cold. Chop and toss with a light coating of olive oil, a squeeze of lemon juice and salt and pepper to taste. Use as a side dish, part of a composed vegetable salad with each component separated, on a baguette as is or with other sandwich goodies.