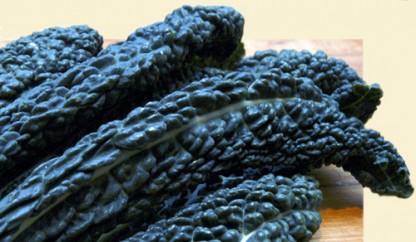 (Don't let the picture fool you; this is a gorgeous holiday dish.  I didn't have time to snap a picture before the kale was gobbled up, but it's  bright green, topped with hot pink seeds and light pink pickled red onions.)
Holiday Kale Salad with Lemon-Anchovy Dressing, Pickled Onions and Pomegranate Seeds*
Gorgeous, tasty, make ahead. This spunky salad adds vibrant greens to your holiday meal, and the spunky acidity of the dressing cuts its richness—  all without stealing stove top space.
Recipe?
1-Make quick pickled onions. (I used about 1/2 a red onion per good-sized bunch of kale. Mine were quickly made and more lightly salted than is traditional, as the anchovies have plenty of salt.)  Just cut your red onion very thinly, then plunge it into boiling water. Drain immediately. Toss in red wine vinegar, sugar and touch of salt to taste. Let sit for 3 hours to 3 days.
2-Pull or cut the greens off lacinato kale stems. Pile, roll and thinly slice the leaves (called a chiffonade).Wash and dry.
2-Mash one garlic clove per bunch of kale with 2-3 anchovy filets that have been lightly rinsed with water. Toss with a dressing — about 4 parts oil to 1 part fresh lemon juice. Drizzle in a tiny bit of maple syrup to taste.
3-20 minutes to an hour before serving, dress well, mixing to bruise the kale a bit, so it absorbs the dressing. (Start lightly with the dressing, adding more dressing if needed. This should be dressed more heavily than a green salad, but don't drown it:)
4-Toss with some of the pickled onions and pomegranate seeds. Top with remaining onions and the pomegranate seeds.
* Full disclosure: This is a wild variation on an Amanda Hesser recipe from Food52.