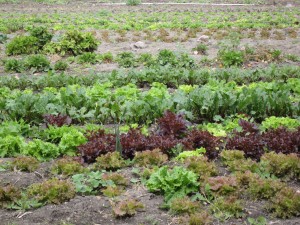 I dream of green.
A few bites of this and that….
Lasagna Gardening
I date myself when I admit that my gardening pre-date the now widely popularized no-till gardening. I've always hand-tilled my sloppy garden,which for a long time was 9 4X4 raised beds. This year, I'm short on time and working a small (10 X 20) community plot. So I'm gonna try lasagna gardening in some of it, which is new to me, double digging the rest, or so I hope. What do you think of lasagna gardening? Love the idea of not tilling….. Here for more.
Anyone heard of gutter gardening?
This looks cool, but I worry about the plastic. Does it leach? Had anyone tried it? Pictures here
Italian DJ fights to keep culinary traditions
Count me in and bring on that Italian food. Why don't we put up more of a fight? Are our traditions too varied? Are we too young a nation? Read the article here.
Oh Caesar…
Remember the grape boycott? More here.
Apple-Cheddar Pie
This may be plugged as a fall recipe, but apples and cheddar are 2 local foods left time of year. Looks great. Recipe here.
Egg Salad Remoulade Wrap
No produce left, but there are local eggs! This old-fashioned recipe is better than ever with fresh eggs, eaten still a tad warm. I made these into a wrap cause they're from my book, Wrap it up! But you could just as easily chop all the ingredients and serve it as a sandwich on toast.
3 large eggs
1/3 cup store bought or homemade mayonnaise
2 teaspoons Dijon mustard
3 whole wheat mountain bread
12 spinach leaves
2/3 cup coarsely chopped red onion
3 tablespoons dill
6 cornishon or gherkin pickles, sliced
salt and pepper to taste
l. Place 3 eggs in a small pot and cover with l inch of cold water. Cook over high heat, and bring just to until it starts to boil. Remove from the heat, cover the pan, and let sit for 15 minutes. Run under cold water ( or let side in ice cold water until well chilled) Peel. Slice.
2. Mix the mayonnaise and mustard in a medium bowl.
3. To assemble: Heat the mountain bread, one at a time, in a large cast iron skillet or directly over a gas flame, turning frequently, until warm and pliable, for 15-20 seconds each. Spread each with about l tablespoon of the mustard mayonnaise. Toss the egg into the bowl and mix. Top each bread with 4 spinach leaves spread out evenly, then top the center with about l/3 of the egg mixture, red onion, dill and cornishon. Season with salt and pepper to taste. Fold in the sides and roll.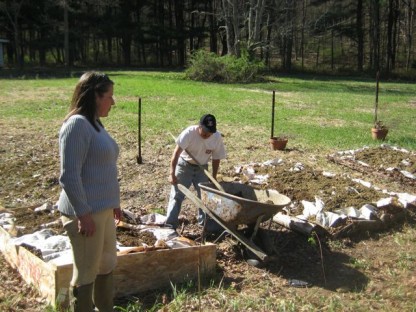 Blog subscriber Terri Brennan sent this picture of lasagna gardening. It works!