Interested in a local food that is yours for the picking?
Here is an opportunity identify and  harvest mushrooms SAFELY while spending a vacation week on an island off the coast of Portsmouth, NH.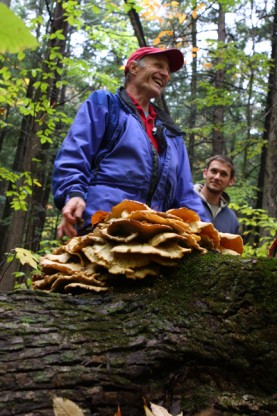 Standing above a chicken-of-the-woods, Laetiporus sulphure
Star Island is the location of a National History Conference to be held  on June 22-29, 2013.  The theme is "The Mysterious & Misunderstood World of Mushrooms". Dr. Rick Van de Poll will be giving lectures throughout the week, giving the do's and don't's of  picking and using mushrooms, including their many culinary uses.
Dr, Van de Poll is a state-certified wetland scientist who is a founding member of the NH Association of Wetland Scientists.  He has recorded over 1300 mushrooms in New Hampshire, including a number of previously undescribed species. He taught Mycology at Antioch New England , Plymouth State University and is presently an adjunct faculty member for the Graduate School at Plymouth State University. He co-founded the Monadnock Mushroom Club in 1988 and founded the Sandwich (NH) Mushroom Club in 2001.
For more contact: Charles Wilson at cedarriv@frontiernet.net or  518.648.0324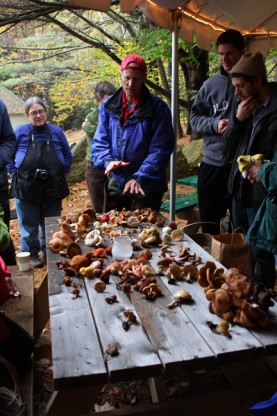 Suillus spraguei, painted suillus in hand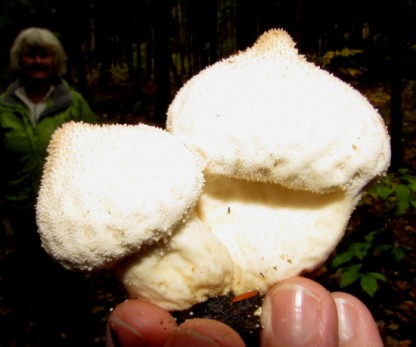 Gem-studded puffball, Lycoperdon perlatum
Join me on facebook for local food conversation and more frequent posts.
Link here.
Other local food news:
2nd Farming our Future Conference in Craryville New York.
Farmers rebuild greenhouses after the brutal storm.
Bad news for us all. Supreme court rules in favor of Monsanto against Indiana farmer.
Restaurants develop locavore menus during the domant season.