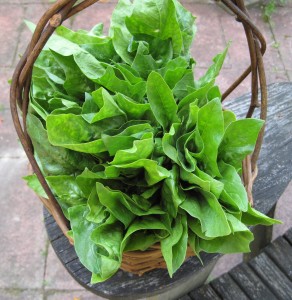 This pasta came out shockingly good for something so healthy and simple to prepare. The key, as with lots of locavore cooking, is to have great household staples on hand, then add whatever is local and exceptionally fresh.
The dish started out with two bunches of vigorous looking spinach that I picked up at my neighborhood farm stand, Taft Farms in Great Barrington. The greens seemed to steer me to the pickled ginger jar, waiting patiently in my fridge for a fun dish, which turned out to be a slightly fiery noodles and spinach with an Asian flare. This one-dish supper satisfies hot, cold or room temperature. (We downed it fast, so make extra!) Serves 2 giant portions or 3-4 normal ones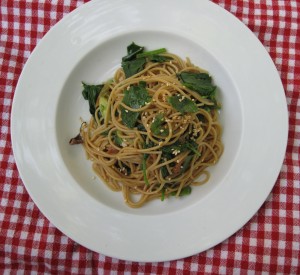 1/4 cup mirin*
3-1/2 tablespoons tamari
1-1/2 tablespoons pickled ginger*, chopped and packed
1 tablespoon any flavorless oil
1-2 teaspoons Cholula (or best hot sauce)
3 garlic cloves, minced
1 tablespoon toasted sesame oil
1 pound fresh spinach, about 2 large bunches
1/2 pound whole wheat spaghetti
2 scallions, greens only, sliced on the diagonal
2 teaspoons toasted sesame seeds
1-Combine the mirin, tamari, ginger, oil, hot sauce (I used 2 teaspoons) and garlic in a small pot or pan.  Simmer over low heat until it is simmering, but the garlic as not browned, about 1 minute tops. Set aside to cool. Add the sesame oil.
2-Cut off the any tough ends of the spinach and chop 5 or 6 times per bunch. Wish well. (Don't bother to dry.)
3-Bring a large pot of lightly salted water to a rapid boil. Add the spaghetti. Cook until al dente, tender but still firm. Add the spinach and swirl around. IMMEDIATELY drain.** Shake the colander to drain well, then toss with the sauce and the scallions. Sprinkle with the toasted sesame seeds.
*Ingredients
I usually purchase pickled ginger at the sushi section of the supermarket, but it's widely available. Mirin is a highly sweetened rice wine that I also bought at my supermarket, although you might have to go to a health food store or gourmet shop to find it.  Make sure to refrigerate the sesame oil, as it tends to go rancid.
**Alternative method.
If you have a large colander you can drain the pasta AND wilt the spinach simultaneously. Just place the spinach in the colander, then drain the hot water and pasta over it. Toss it with tongs until the spinach is just wilted.