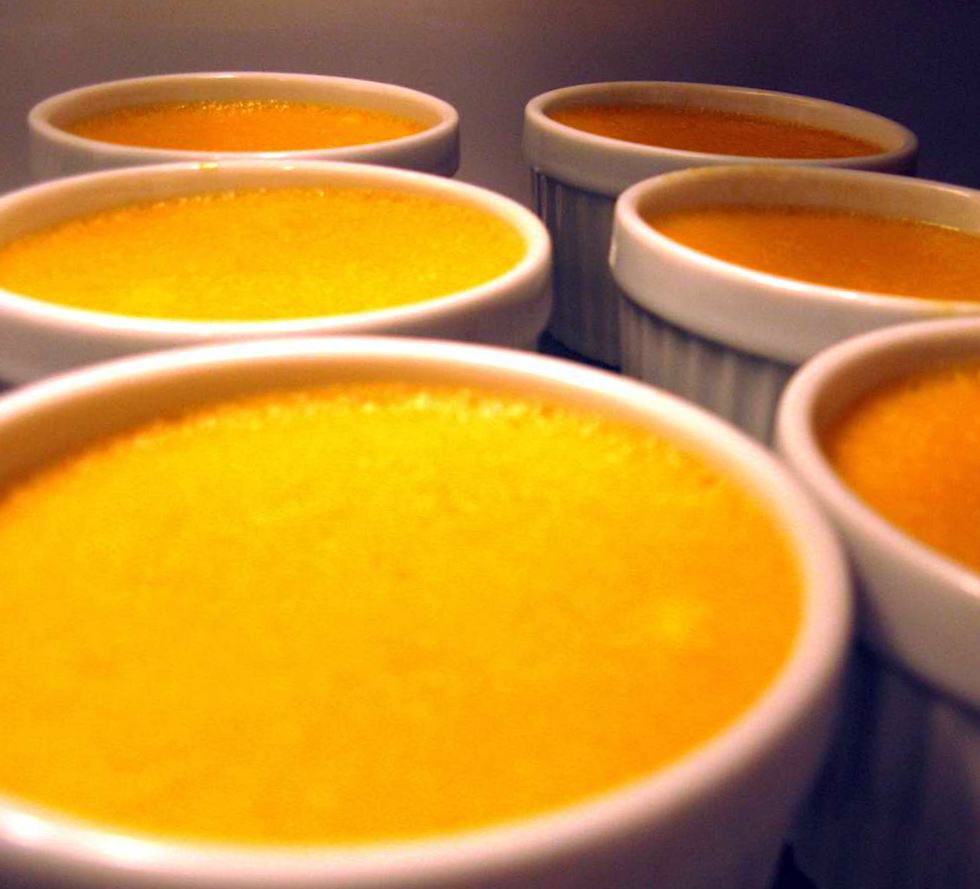 A week in Oaxaca inspired me to mingle the maple season here with a classic Mexican dessert —  flan with a New England twist.
Fried from my trip but blog-faithful, I preheated the oven and laid out the ingredients. Then I remembered something — a fabulous custard recipe from Lindsey Shere's Chez Panisse Desserts. So, borrowed it and broke with my only-Amy's-recipe tradition. Forgive me, but I know you'll love this. (And all three ingredients are local.) Lots more on Mexico in my next post! Makes 6 1/2 cup custards.
2 cups heavy cream
1/2 cup maple syrup, any grade, or maple sugar
6 egg yolks
1-Preheat the oven to 325 degrees. Use a baking pan large enough to fit six 1/2-cup custard cups. Fill it with about 1 inch or so of water.
2-Warm the cream. Stir the syrup or maple sugar into the egg yolks. Mix in a little of the warm cream, then add the rest, stirring constantly.
3-Strain into a pitcher and pour into the custard cups (or any kind 1/2 cup oven-proof container).
4-Place the cups in the water bath, and lightly lay a sheet of foil on top. Carefully place in the oven, then bake until the custards are set in a ring about 1/2 wide around their outside edges, about 40 minutes.  They should still be soft in the center. You can serve them chilled, but I love 'em warm. Tasty as is or with a crisp nut cookie, as the recipe recommends.
Maple Syrup: Maple syrup is good all year, but this is its season, when the sap's running well and the sugar shacks are bustling.  If you live near me, in Western Massachusetts, bring your kids to watch maple syrup being made, then stay for a pancake breakfast at Ioka Valley Farm. Elsewhere, check with your local farm advocacy group, maple association or State Department of Agriculture. To buy local syrup here, use the Berkshire Grown website.  I like my syrup dark, but it runs from very light to dark and very mapley in flavor. Whichever grade you buy and wherever you buy it, always ask where it's from or read your label closely. It may come from far afield and it's best to support our regional farmers!